Campus Location & Contact Information:
Address: 1995 Gentilly Blvd. STE C1 New Orleans, LA 70119

The New Orleans campus started with Shifu DeRu starting teaching Tai Chi classes at a local senior center in a health and wellness collaborative effort with Sheriff Harry Lee in 2001.  When Hurricane Katrina devastated New Orleans, the Institute was a place of refuge to many students and strangers who had to deal with the stressors of rebuilding. The Institute donated thousands of dollars to assist students in need and provided financial assistance to help hundreds of distressed hurricane victims heal their bodies and minds through Tai Chi and meditation.  Since then, the Institute has produced the "Shaolin Legacy Show", bringing in international performers, hosted the Kung Fu Sanshou competitions and have taken students abroad to compete in internationally.
The campus has continued to experience growth and now offers classes 6 days a week in the New Orleans metro area.  We are conveniently located with students who travel as far as from the Northshore, Kenner, the Westbank and Slidell to attend classes.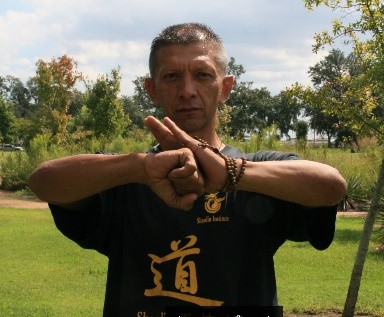 Marco Castro, Instructor
Kung Fu, Tai Chi, San Da (Sanshou)/kickboxing
Marco Castro is from La-Lime Cortez, Honduras where he served in the military before moving to the United States. Marco is a Golden Black Sash Part II in Kung Fu, he is a GBSC member and has competed in multiple tournaments. Marco has traveled to China several times to further his training and knowledge of Shaolin Kung Fu. He has been with the Shaolin Institute since 2007. His weapons on choice are the three sectional staff, broadsword and chainwhip.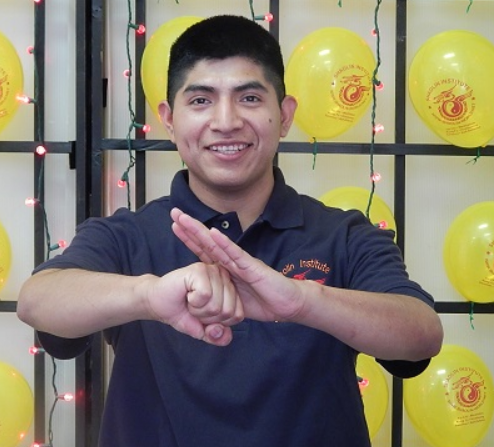 Edy Ramos, Instructor
Kung Fu
Eddy Ramos is from Guatemala. He started learning Kung Fu to improve his skills and flexibility. After years of being with the Institute, he expanded his skills to Tai Chi and Kickboxing. His love and dedication to Shaolin has earned him a Golden Black Sash Part I in Kung Fu. Eddy's specialty is in open hand forms, such as Seven Stars, Xiao Huan Xuan. He has progressed to staff, straight sword, and broadsword.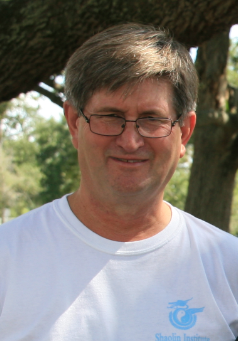 Ron Dowhower, Instructor
Tai Chi
Ron Dowhower is native New Orleanian and is an engineer by trade. He began learning Tai Chi with his wife who included Tai Chi as part of the healing process for a back injury. Both started at the Shaolin Institute in 2008 to improve his health, balance and overall wellness. He is currently a Brown sash teaching Yang and Chen style Tai Chi.  He is conscientious of physical abilities and modify difficult movements for students with physical disabilities to emphasize health and healing.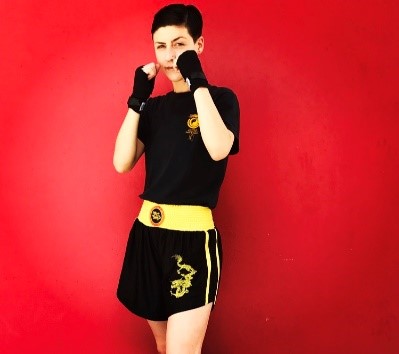 Meredith Livengood, Assistant Instructor
Kung Fu, Sanda (Sanshou)/kickboxing
Meredith Livengood grew up doing Tai Kwon Do, achieving her black belt by age 11. She returned to Martial Arts as an adult to stay in shape, and as an alternative way of dealing with ADD, anxiety and depression. The training she received which strengthened her mind and body has allowed her to stop being on prescription medication. Kung Fu and Sanshou (kickboxing) have helped immensely with her focus, memory, and mood. This life experience allows her to connect with students with similar concerns, and is proud of being a part of the changes she sees in others. She is currently a red sash in Kung Fu and a green sash Sanshou (kickboxing) and assists in teaching both classes. She has been learning at the Institute since 2014.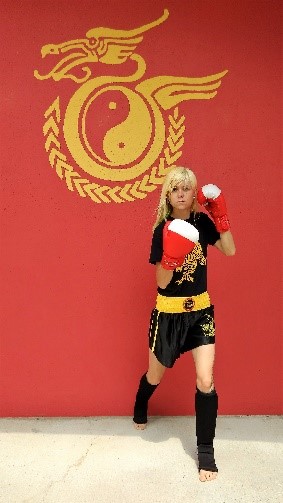 Janet McGrail, Assistant Instructor
Kung Fu, San Da (Sanshou)/kickboxing
Janet McGrail has lived in New Orleans for over 10 years. Her background is in activism, circus arts and performance. She decided to start training in Kung fu and Kickboxing/Sanshou out of a desire to feel safer walking around New Orleans. Before she started, she was constantly looking over her shoulder when walking alone. Since training, she has improved her confidence and awareness, and no longer feels scared to walk alone at night. She is currently a red sash in Kung Fu and a special orange sash in Sanshou.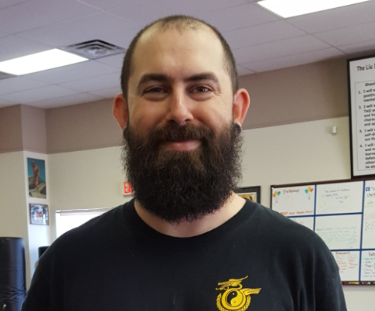 Josh Baronne, Assistant Instructor
Tai Chi
Having grown up doing Taekwondo as a teenager, Joshua Barone had experience in the profound effects martial arts can have. In his quest to get healthy again, and find a community of people that help encourage each other, he found a great home at the Shaolin Institute. Studying Tai Chi he has greatly improved his health of both body and mind. Joshua has started to practice Kung Fu to improve physical strength and awareness. And now seeks to help further strengthen the community by sharing his passion with others. He is currently a blue sash in Tai Chi and a teaching assistant.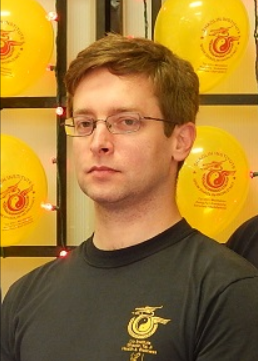 George Lunsford, Instructor
Kung Fu, Tai Chi, San Da (Sanshou)/kickboxing
George Lunsford is home grown, born and raised in New Orleans. George started with the Shaolin Institute in 2004 by learning Kung Fu. He has since expanded to Kickboxing and Tai Chi. George's specialty is in traditional shaolin forms such as Praying Mantis, and in weapons, broadsword, straight sword, staff and bull whip. George has traveled to China to train alongside fellow teammates such as Patrick Barry, who is now in UFC.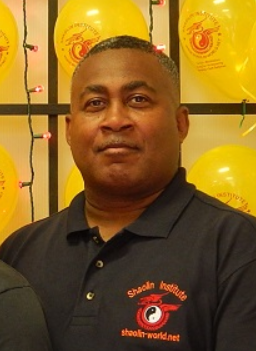 Renard Edwards, Instructor
Kung Fu
Originally from San Francisco, Renard first came to watch his son attend Kung Fu classed, but felt it was an opportunity he could not miss and started training. His commitment to training resulted in losing over 30lbs. He is passionate about helping others achieve the same goal to improve their health and well-being and to promote the great spirit of Shaolin. He is compassionate, confident and has learned a lot in inner strength and peace. His dedication and continuous practice resulted in a Golden Black Sash Part 1 with the Shaolin Institute. Shi Xiong Renard has been with the Institute since 2006 and loves traditional Shaolin forms such as Tong Bai, and 7 Stars.
Shaolin Warriors Testimonials:
Parents of Andra and Nya Ferguson- Our daughters have grown in health, discipline and focus over the course of the year and a half that we have been with the Institute.  Both have participated in activities above and beyond the classes.  The exposure to festival, competition, camps and other activities has broadened their perspective of their community, city and the world. They have expanded their sense of social responsibility and have been able to expose others to Kung Fu.  We are happy to be part of this supportive, diverse community.
Ashley Rowell- I've been a student here since December 2014. I began taking Taichi because I was having joint and back pain from early onset of arthritis. Within a few weeks I noticed better mobility and less pain and was even able to reduce the amount of pain medication I was taking on a daily basis. After a few more weeks I felt so good that I decided to try Kungfu which has been an amazing experience as well. My physical strength and cardiovascular endurance has already improved and I look forward to my time at the school every week. The instructors are excellent, the other students are extremely friendly and very supportive, and Shifu is a blessing! This is truly a wonderful place to improve your mind, body, and spirit; thanks Shaolin Institute!
Ryan Moore & Patrick Moore- My son is normally very shy but over the course of his classes he has become very outgoing and is always very excited to go to class. He I s only four years old but is becoming a confident and devoted student of Kung Fu.  In addition, Kung Fu has given he and I a very fun and positive bonding experience I joined as well.
Jared Bajoie- I heart Shaolin Institute because of the family atmosphere. I also take pride in the fact that we are learning from a Grandmaster from the Shaolin Temple. That is a privilege that may Kung Fu students do not get. We have the ability to grow as far as our desire takes us in our study of the Shaolin teachings.
Sascha Pierre & Gregory (4yrs old)- I love Shaolin Institute because it teaches us both me and my son discipline and compassion through Kung Fu.

  

Everyone here is like our family.

  

It's a pleasant atmosphere to be in. Everyone is patient and friendly.

  

My son has learned so much being here.

  

I find him focusing more on his studies both school and Kung Fu. I like the fact that you guys make learning fun, but also are strict enough to make the kids listen.

  

He is only four and knows how to count to 20 in Chinese.

  

It amazes me how much he loves to come here.

  

Every day he asks for us to go to Kung Fu class and honestly, I'm just as excited to bring him. Love you guys.
@2017 - Shaolin Institute - All Right Reserved